As a local business ourself, we know it's so important to buy from small Winnipeg companies when we can. Not only can you feel good about your money staying local, but you also are guaranteed to get better service and quality than with a large chain retailer. Here are some of our loyal clients' small businesses that would appreciate your support this holiday season and beyond!
Furnish your home with Inland Fine Furnishings
Owned by John Klassen, Inland Fine Furnishings has a decades old history in Winnipeg of getting furniture with lasting appeal into homes. Inland offers a highly curated selection of furnishings and finishings, all sourced directly from craftspeople the owner has personally vetted.
Client and friend of Travis Milton
Refresh your home with JC Decorating
JC Decorating is a Winnipeg based, small, fully insured painting and decorating company. The owner Al Johnston is a Red Seal Painter and a journeyman with 14 years of experience in the commercial industry. They take immense pride and care in providing their services to beautify their customers' homes.
Client and friend of Jordan Prest
Treat yourself to Chaeban Ice Cream
Joseph Ali started Winnipeg's first super-premium, made-from-scratch hard ice cream shop as a way to give back to the South Osborne Syrian Refugee Initiative (SOSRI) after they helped bring his wife Zainab's family to Winnipeg from the middle east, where many were living in dangerous conditions. The shop became a cornerstone of the community, providing jobs as well as delicious ice cream to those in the area. As well as an incredible story, Chaeban has some of the best ice cream and dairy products in the city!
Client and Friend of Bryan Masse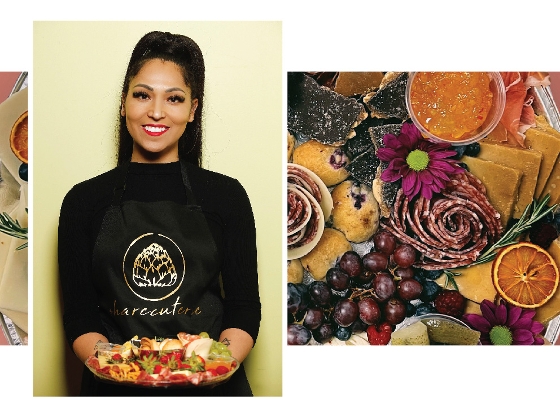 Go Gourmet with Sharecuterie
https://www.sharecuteriewpg.com/
Want to impress your guests without spending an entire afternoon crafting salami flowers? Sharecuterie, owned by Cassandra Carreiro, is a Winnipeg based, locally sourced, artisanal charcuterie delivery and catering service. Their boards are locally sourced, high quality, and visually appealing. As well as catering for events, a board makes a great gift and can be sent right to your friend or family member's door.
Client and friend of Bryan Masse
Get a fresh cut from Harvest Barbershop
https://harvestbarbershop.com/
Located centrally in Wolseley, Harvest Barbershop offers quality hair services to those of all ages. Dru, Mason & Viz have over 30 years of combined experience, and provide a chill, relaxing environment alongside great haircuts.
Client and friend of Bryan Masse
Get some classic diner grub at Daly Burgers
If you're craving a burger and fries, there's nowhere better than Daly Burgers. Right on Corydon Ave, it serves burgers, gyros, hot dogs & other classic eats at the counter. Owned by Gus and Tony Vailas, a father and son team behind some of the city's best known and loved Greek restaurants.
Client and friend of Bryan Masse.
If you've used any of these services or shopped at any of these businesses before, let us know what your experience was! And if you want to buy or sell a home with Realtors who will see you as a real person rather than a transaction, reach out through Instagram or at 204.891.3083!
Happy Holidays!