Testimonials
When choosing a real estate professional, get to know their history!
Below, you'll find information that will help you get to know us better - from awards and credentials we've achieved, to references from past clients.
We consider the satisfaction of our clients to be our greatest achievement, and take pride in our high volume of repeat business and referrals.
Call us today - We'd love to add you to this growing list!
Client Testimonials
Katya & Andrey Kolmakov
We just bought our first home with Bryan - and it was the best experience ever! Those who say it's hard and stressful never worked with Bryan! He was open, informative, and endlessly supportive. We truly appreciate that he kept our interest in mind at all times. He was always direct and honest about the issues he noticed in a property (and we obviously didn't because it's our first house), provided us with all necessary information, and was wonderful to work with on personal level! Thank you, Bryan!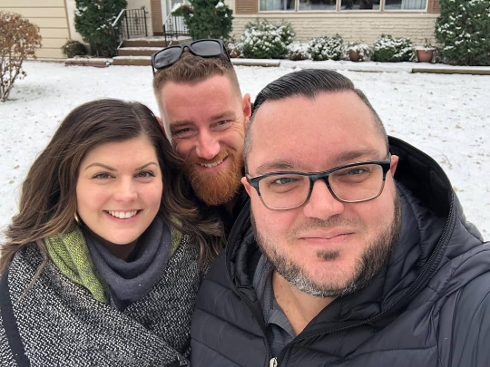 Brian & Liz Dyce
Bryan and his team helped us find the home we were in search of. Without question, he was there to help, offer guidance, and be flexible as possible. If you're looking for a realtor who will treat you like you were family, this is your guy.
Tannis & Mike Ehinger
Bryan and his team have been amazing to work with. Bryan is very responsive to our questions and provided us with great service and support during our real estate journey. Bryan is very knowledgeable in the real estate market. He knew exactly what we were looking for in a new home and found us our perfect dream home. He helped prepare us for the sale our our home and it SOLD within 1 DAY of being on the market which amazed us! He made the whole buying and selling process less stressful, easy and enjoyable. We definitely recommend working with Bryan and his real estate team!
Jayson & Cathie Smerechynski
We are the luckiest first time home buyers (now owners) to have found an amazing real estate agent like Bryan. We thought we could look for houses on our own and we were wrong. We met Bryan at an open house and clicked with him right away. He has helped us through, what was supposed to be stressful, process and we had a blast! He was there for us whenever we needed him. We had a question and he had an answer, or he got us an answer. Bryan made sure we were comfortable with the decisions we were making and talked out every concern we could have had. I'm recommending all my friends and family contact him if they need to sell or purchase a house!! Thanks again Bryan!
Keenan & Cari Bentham
Very thorough when going through houses and attentive to our needs! He definitely knows his stuff and makes house shopping fun instead of stressful! Highly recommended.
Christine Mc
THE ABSOLUTE GREATEST HOME BUYING EXPERIENCE EVER!!!
Super accommodating, great listener, and takes the time to get to know the buyer/seller.
HIGHLY RECOMMENDED if you are moving in or moving out....BAM is your man!!!!
Kurt Lawson & Katelyn Chornoby
Bryan's knowledge/expertise was extensive and his advice was well tailored for a first time home buyer. We appreciated his effort, time and patience, as we made the biggest financial purchase of our lives. Bryan is down to earth, honest and an absolute pleasure to work with. Highly recommended!!
Bryant & LaRissa Brooks
My husband and I met Bryan by chance at an open house we visited in Sage Creek and by the time we left, we had no doubt in our minds he would be our realtor. Bryan is patient, extremely knowledgeable, friendly, honest and accommodating. We looked at 20 some houses and Bryan never once lost patience with us. When it came to listing our current house, he was honest about what needed to be done, walked us through what to do, and sold our house faster than we thought possible (and for more money than we anticipated!). We found not only our realtor for as long as he's working, but a friend! We're beyond happy with the experience and can't thank him enough!